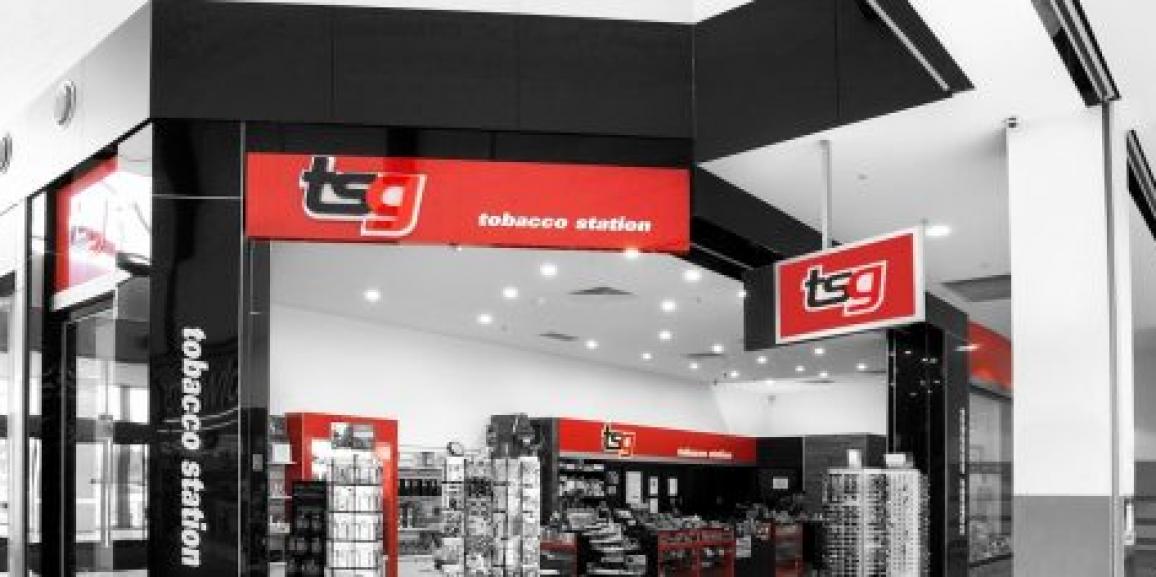 The TSG Insider
Your Weekly Update
Friday 20 May 2022
Content
Annual Fee Chance To Win
New Power BI Report

Preferred Partners
Tobacco Supplier News
Covid-19 Resources
DDPAY FOR A CHANCE TO WIN $2,500 ONE OF 20 CASH PRIZES
To go into the draw to win one of 20 x cash prizes valued at $2,500 each supported by PML, simply satisfy these 2 requirements:
1. Be on the TSG Hybrid offer by 1 June 2022
– Contact your Franchise Manager to get on the TSG Hybrid Offer
– If you are already on the TSG Hybrid Offer, you have satisfied this requirement
2. Pay your fees upfront in full by DDPAY
– If you are signed up to DDPAY email [email protected]
– If you are not signed up to DDPAY complete and return the form by 1 June to advise your fees can be paid by DDPAY
Your fees will be automatically debited from your nominated account on Friday 17 June. You will receive a reminder SMS and email on Wednesday 15 June.
Cash prize will be paid in July with June 2022 rebates.
If you did not receive an email with your invoice contact us.
HEIMDALL POWER BI UPDATE – ** CUSTOMER COUNT BY HOUR REPORT **:
TSG will be adding a new Power BI report to Heimdall next week called Customer Count By Hour Report.
This report enables you to :
Check the amount of customers that come into your store on a particular hour of the day
Check which hours are the busiest and design your strategies accordingly
Allows you to check which days of the week are the busiest
Check which products & categories are most popular on a certain day/week or hour of the day
Also gives you a total customer count for your selected timeframe.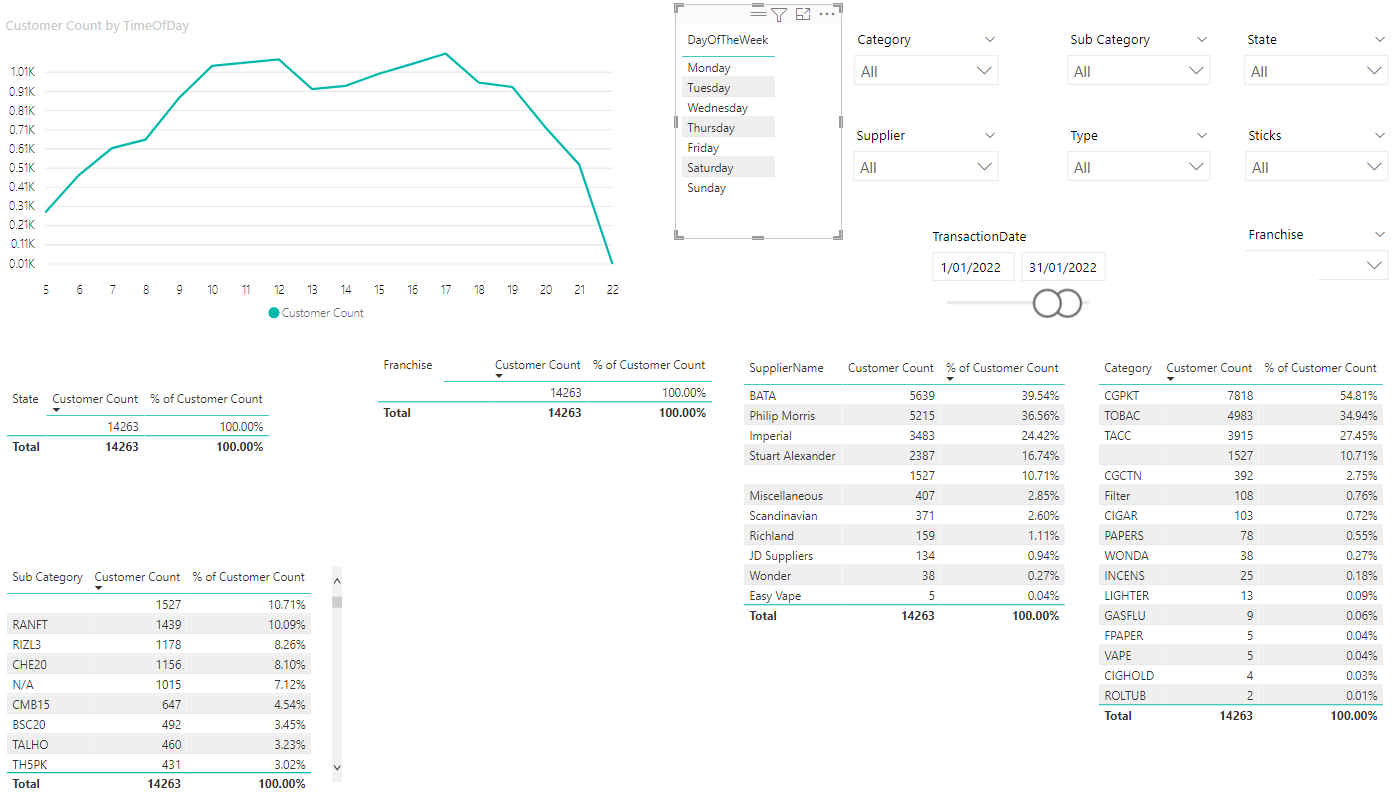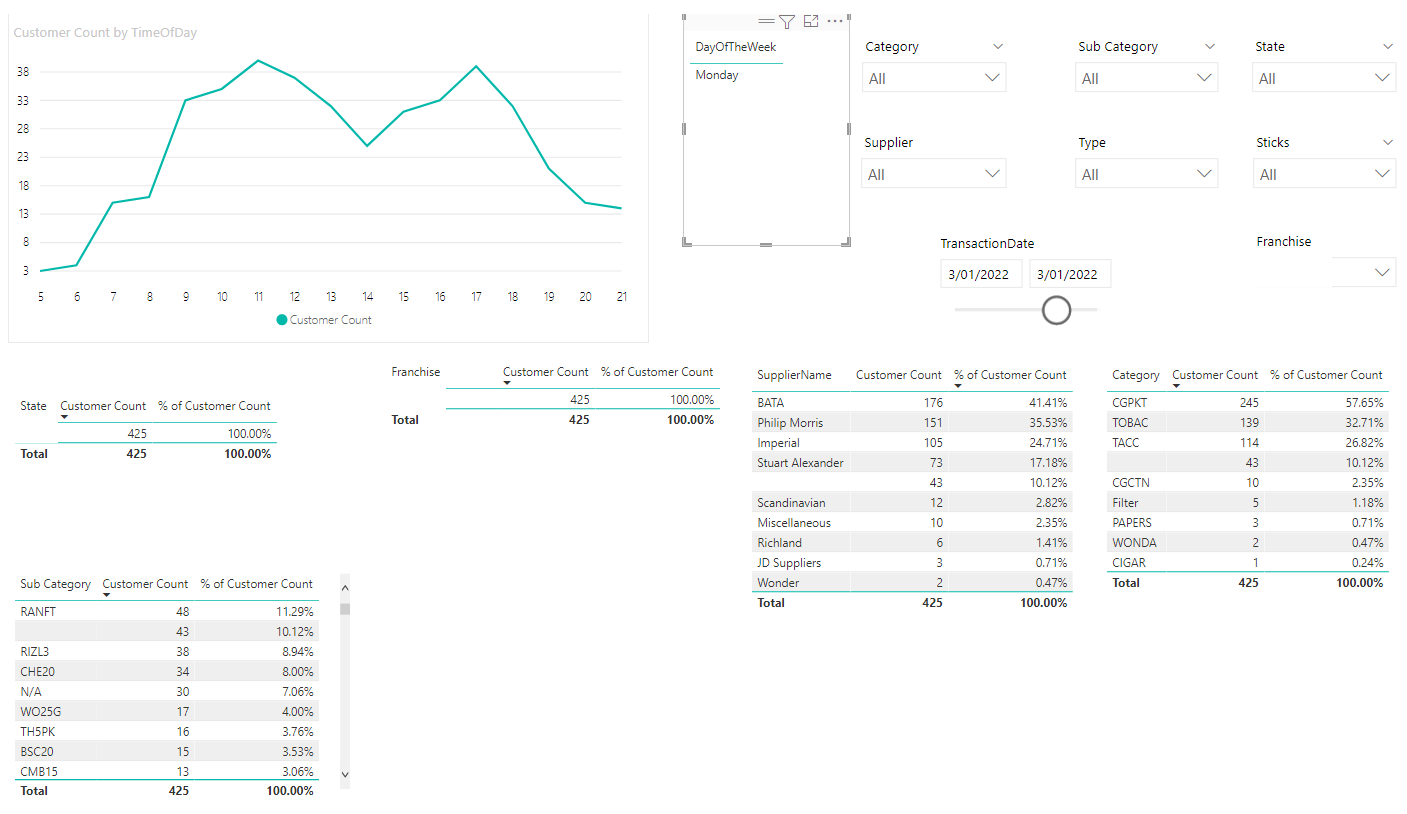 Please Note:
This report pulls your sales data up to the last 7 months.
Allows you to filter months, weeks and days based on your selected timeframe.
If you only select one day, it will show you the customer count by each hour. However, if you select a longer timeframe then it shows you the total number of customers for that hour.
If you select Monday for example as 'Day of the week' and timeframe is a month, then it will show you a total number of customers for each hour for all the Mondays combined in that selected month.
For resolution to common IT issues and other Knowledge Base articles please visit the IT Tips page.
** RED HOT MAY SPECIALS **
GET IN WHILE THEY LAST
Check out the new catalogue of red hot TSG online shop specials now available.
EXCLUSIVE TO TSG ZIPPO DESIGNS
TSG has secured 4 ZIPPO lighter designs exclusive to TSG stores ONLY and must be ordered via the TSG Online Shop. These can be found in the SHOP Preferred Partners tab, Sheldon and Hammond, SHOP ZIPPO BY TSG link, then select TSG EXCLUSIVE.
Click the image below to jump to that item in the shop.
TOBACCO SUPPLIER NEWS
Imperial
The Champion RYO Focus Trade Program commences Monday 23rd May and is running for 6 weeks. $25,000 in gift vouchers will be up for grabs for 80 TSG outlets* with the highest growth over target.
The top 5 stores will receive a $1,500 Gift Voucher. Your Imperial representative will call with your targets. Scan vs. Purchase variance applies. Additional information can also be found under promotions.
*Excludes ACT & WA stores due to legislation.
Stuart Alexander
There will be a price increase on Old Holborn 25g effective from Monday 30th May 2022. New Cost $51.00 excluding GST per 25 gram pouch. Updated price list under price lists.
The 3 P's
Promotions – Imperial have decreased the case deals on Lambert & Butler 20's and JPS 25g RYO. BAT have decreased the case deal on Holiday 30's. B & H 25's commences in ACT/NSW/VIC.
Price per stick and price board layouts – all updated.
COVID-19 RESOURCES
Keep up to date on your states' Covid regulations via the links provided below.
REPORT ILLICIT SALES
If you are aware of illicit tobacco being sold you can report this at stopiliitcit.com or via email [email protected] or ATO tip off number 1800 060 062.
Online reporting to Border Force via this link.

LOOK AFTER YOURSELF
There are resources for you if you, your family or your staff need support.
Lifeline (13 11 14) and
Beyond Blue (1300 22 4636 or online chat).
TSG Franchise Management
F19/25-39 Cook Road
MITCHAM, VIC 3132
This transmission contains information that may be confidential and that may also be privileged. Unless you are the intended recipient of the message (or authorised to receive it for the intended recipient) you may not copy, forward, or otherwise use it, or disclose its contents to anyone else. If you have received this transmission in error, please notify us immediately and delete it from your system.