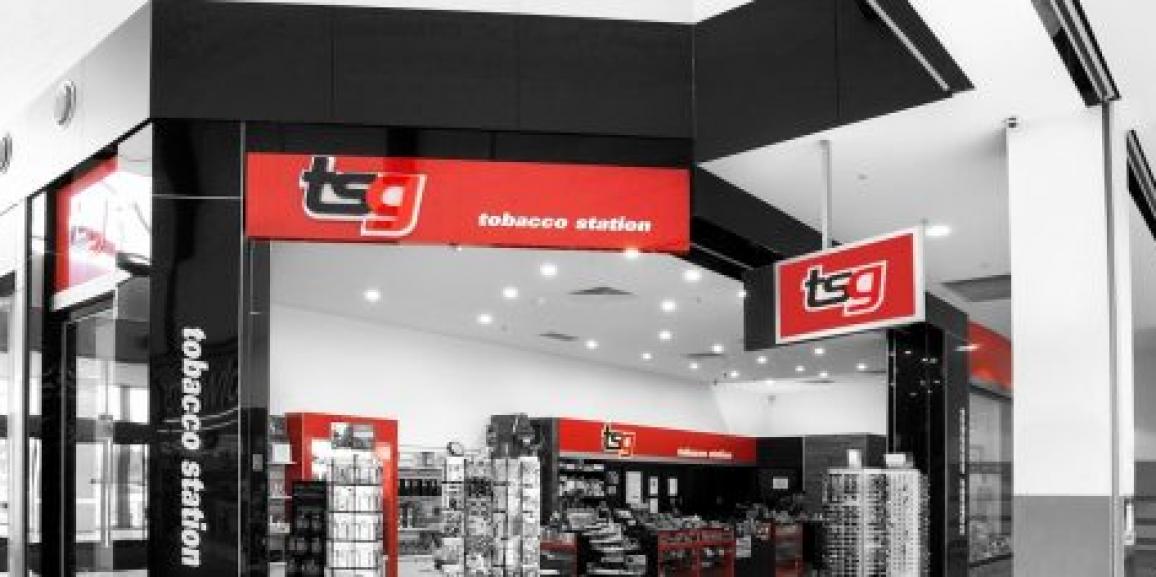 The TSG Insider
Your Weekly Update
Friday 24 June 2022
Content
Hybrid + DDPAY Winners
Managing POS Categories
QLD Law Changes

Preferred Partners
Tobacco Supplier News
HYBRID STORES ANNUAL FEE DDPAY PRIZE WINNERS
Congratulations to our winners of the $2,500 cash prize supported by PML!
Albion Park Village Bayswater
Brisbane CBD
Carseldine
Casino
Charnwood Chelsea
Cowra
Healesville Heathwood
High Street Melton Inverell
Northbridge Riverlink
Sheridan Street
Stones Corner
The Sands Tuncurry
Warragul Westmead
Payment and paperwork was sent this week.
REMINDER ON HOW TO MANAGE POS CATEGORIES AND SHORTCUT BUTTONS ON SALES PAGE
Using this guide the Franchisees will be able to achieve the following:
Create and manage Categories
Change the order of Categories and products within them under the Sales panel for easier access
Show/hide products from catalogue
Create shortcuts/hot keys for various products
Please find detailed instructions here, for resolution to common IT issues and other Knowledge Base articles please visit the IT Tips page.
QLD CONSULTATION ON TOBACCO LAWS- FINAL REMINDER
If you are not a QLD store, scroll on by.
The QLD Government is holding a public consultation process on a major smoking law overhaul. It is important that YOU as a TSG Tobacconist Retailer in QLD have your say during the consultation period.
TSG Group will also complete a submission, BUT it is important that each individual business owner has their say.
Complete and Submit the survey by the closing date for submissions being 5pm on Sunday, 26 June 2022. Contact your Franchise Manager if you have any questions.
PREFERRED PARTNER OF THE WEEK
EXCLUSIVE TO TSG
FOR ALL YOUR ZIPPO NEEDS
Sheldon and Hammond is an import, marketing and distribution company of quality brands. They specialise in five major market categories, which includes tobacconists and brands that include Zippo.
All TSG stores have access to the FULL RANGE of ZIPPO lighters via the TSG Online Shop – simply click on the "SHOP Preferred Partners" tab, scroll down to Sheldon and Hammond, and select "SHOP ZIPPO BY TSG".
INTENSO SOUND BARRIER- BEAT THE PRICE RISE
Protect your stock from being stolen with the 125dB Sound Barrier. Prices due to increase on July 1st, for more information or to order now contact:
Alan from Sonic Force Security on 0438 729 807.
SMOKESHIELD UPDATE
SmokeShield are changing the way they take payment for monitoring invoices. Customers of SmokeShield will have received email notification but if you have any questions please contact SmokeShield directly here.
PML

PML Diamond+ Partners: Just a reminder if you are able to attend the PML Brand Academy don't forget to RSVP via the email from PML ASAP.
As Q2 comes to a close, don't forget to forward any PML outside purchase invoices to [email protected] no later than Friday 8th July. If your scan vs. purchase variance is greater than 10% and no outside evidence is presented you could be forfeiting share payments dollar. Thanks to those stores that have been sending outside purchases during Q2.
Imperial
Imperial have informed us that there were approximately 100 outlets between 6th – 17th June that had the incorrect off invoice paid on Lambert & Butler 20's – $18.60 instead of $22.69.
The difference in the off invoice rebates will be credited to the stores impacted.
BAT
Recognised outlets ONLY. Week commencing 4th July BAT will have the following changes to their product portfolio. Product to be deleted in column 2 (you can continue to sell through) and new product in column 3 with pricing.
The main inclusions are the release of Holiday Lasting 15g and Winfield 15g RYO in all states except NT/QLD.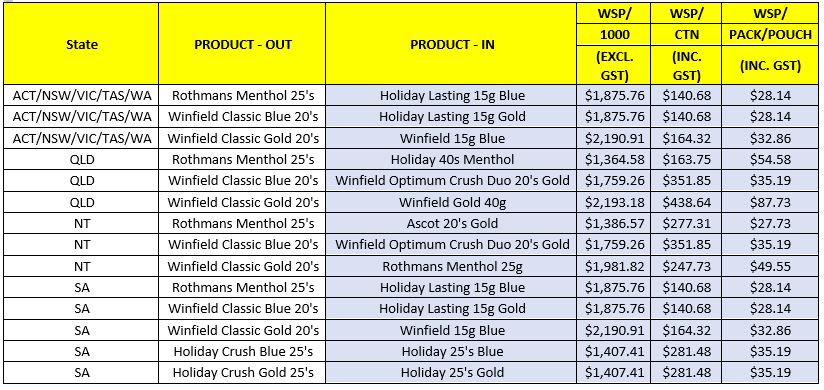 Continue to forward any outside BAT purchase invoices to [email protected] to ensure your scan vs. purchase variance is within 10%. If no outside evidence is presented BAT could suspend your trading terms and promotions for up to 3 months.
BAT also continue to review promotional caps. Speak to your BAT rep to see if your outlet has been impacted – positive or negative.
Scandinavian Product
Confirming where you can now purchase ex-Scandinavian stock.
The 3 P's
Promotions – PML reduced case deal on Chesterfield 20's & 40's. Imperial – reduced case deal on Lambert & Butler 20's.
Richland no changes. BAT changes to Capstan 15g, Holiday 20's (both plain and crush) and Winfield Original 25's.
As a result all price board/ticketing and price per stick spreadsheets update.
REPORT ILLICIT SALES
If you are aware of illicit tobacco being sold you can report this at stopiliitcit.com or via email [email protected] or ATO tip off number 1800 060 062.
Online reporting to Border Force via this link.

LOOK AFTER YOURSELF
There are resources for you if you, your family or your staff need support.
Lifeline (13 11 14) and
Beyond Blue (1300 22 4636 or online chat).
TSG Franchise Management
F19/25-39 Cook Road
MITCHAM, VIC 3132
This transmission contains information that may be confidential and that may also be privileged. Unless you are the intended recipient of the message (or authorised to receive it for the intended recipient) you may not copy, forward, or otherwise use it, or disclose its contents to anyone else. If you have received this transmission in error, please notify us immediately and delete it from your system.