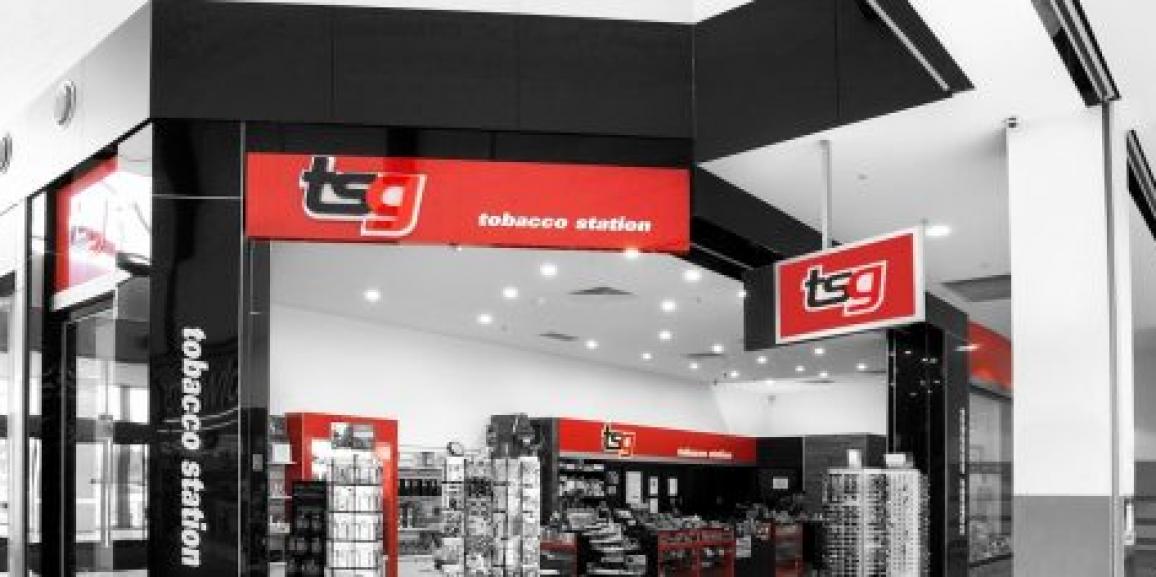 The TSG Insider
Your Weekly Update
Friday 28 January 2022
Contents
Q4 Trading Term Results
New Power BI Report
Preferred Partners


Tobacco Supplier News
Covid-19 Resources
Q4 TRADING TERM PERFORMANCE RESULTS
TSG has emailed out trading term performance results for each store for Q4 2021. Your Franchise manager will discuss your individual results over the coming weeks. Group averages changed slightly:
PML hitting another record and its highest average in 21 months on TMC despite a slight decline on RYO in comparison to the previous quarter.
ITA hitting a new record after launching their hybrid offer with TSG in Q4 2021.
BAT with the 2nd consecutive decline after their peak in Q2 2021.
Understanding trading term performance is crucial in running your business effectively. Trading term income goes straight into your Gross Profit. Promotional payments are only for consumers and "loaned" from retailers to suppliers in the ordinary course of business.



Our sales team is now also equipped with very powerful data to compare all quarters of 2021 and provide detailed insights into each supplier trading term component.

Join the conversation and grow your trading term income.

If one supplier pays 8 x more on average than another supplier, can you afford to not truly understand how you get paid from each supplier?
POWER BI – NEW 'MARKET SHARE STICKS OVER TIME' REPORT

A new report called 'Market share sticks over time' has been added to your Power BI tab under Heimdall. This report allows you to check Market Share of sticks sold by supplier over a selected timeframe.
You can filter the report using different parameters such as Category, Sub-Category, Supplier and transaction period.

Power BI reports are used to transform data by creating charts and graphs to provide an insight on how your business is tracking. When you log into Heimdall, you will automatically have access to the last 7 months of sales data for your store/stores. By using the available filters, you will be able to highlight your best-selling products by category, sub-category and or supplier over a particular date range. These reports can then be downloaded to your system for further analysis when required.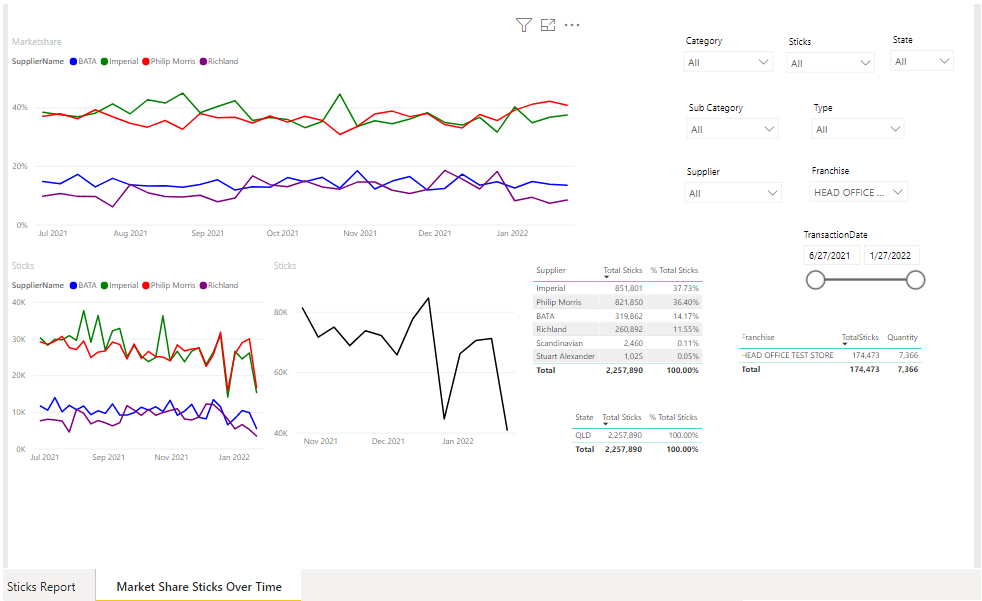 We have now rolled this out, and you will automatically find it in the top Menu when you log into Heimdall. Please familiarise yourself with Power BI by reading the Heimdall Power BI user guide found on the TSG website here.

For resolution to common IT issues and other Knowledge Base articles please visit the IT Tips page.
BRAND DEVELOPERS MASSIVE CLEARANCE SALE
For more information please contact our TSG Business Development Manager
James Brennan on 0417 990 917
PML
Longbeach Rum 25g RYO will be launched in Queensland from next week. Allocations will be in place. WLP $47.47 pouch/$237.33 outer. More information under products. This product will replace Longbeach Red 25g RYO which will be deleted from 28th February. Stores can continue to sell Red 25g until stock runs out.
There will also be a trade program in place:
Date: 14th February 2022 to 13th March 2022
$2 per pouch conditional discount (margin enhancement) on scan capped @ $100 per outlet
Top 5 outlets (Share of market for LB25g RUM) receive additional $200 discount. Scan vs. purchase variance applies.
Imperial
WA Stores – Major flooding in WA. The latest update from Linfox about Imperial's stock on the WA train is that the flood has caused some structural damage on the track therefore no more loads can be sent this week and next. The load which left their DC last Friday is currently stuck at Melbourne and will only be able to move once the track is reopened which is estimated to be week commencing 07/02. Based on this Imperial won't be able to get any more deliveries by train into WA until 11/02 and they expect to remain quite restricted in WA until 24/02 as there will be a huge backlog that needs to flow through after the track is reopened. Imperial have worked on a plan to airfreight stock of critical lines to WA with an estimated arrival of 03/02. This volume will give about a 1 week buffer for orders until trains can move again.
The below lines are on a watchlist and capping will apply based on normal averages: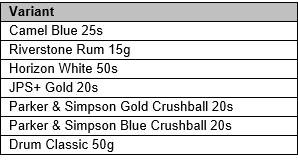 BAT
BAT are launching Holiday Crush 20s Blue and Gold from Monday 7th February 2022. Allocations apply to stores with BAT terms. Products to remove for deletion are Rothmans Regular 20s Blue and Gold.
Credits will take place in March for deleted lines. Promotional activity and margin enhancement will follow. WLP $27.78 pack & $277.78 ctn incl. GST.
Richland
Tycoon Rum is being added to the Tycoon range and will be available in Twin Pack format from 31st January. More information under products.
Scandinavian
Scandinavian have a new Accessories Price List effective 1st February 2022. This can be found under price lists.
The 3 Ps
Promotions – Imperial promotions on Camel, JPS 30's, Horizon 25g (QLD/NT) and JPS 25g 2 for RYO (QLD/NT) end Sunday. Change to case deals on Parker & Simpson 30's, Champion 25g RYO, JPS 25g RYO and Horizon 50g RYO (QLD/NT).
BAT – Changes are highlighted in orange – Rothmans 30's Regular & Cap. Winfield 25's Optimum additional states added.
Richland has no changes.
All price per stick and price board/ticketing layouts updated.
COVID-19 RESOURCES

Keep up to date on your states' Covid regulations via the links provided below.
LOOK AFTER YOURSELF
There are resources for you if you, your family or your staff need support.
Lifeline (13 11 14) and
Beyond Blue (1300 22 4636 or online chat).

REPORT ILLICIT SALES
If you are aware of illicit tobacco being sold you can report this via email [email protected] or ATO tip off number 1800 060 062.
Online reporting to Border Force via this link.
TSG Franchise Management
F19/25-39 Cook Road
MITCHAM, VIC 3132
This transmission contains information that may be confidential and that may also be privileged. Unless you are the intended recipient of the message (or authorised to receive it for the intended recipient) you may not copy, forward, or otherwise use it, or disclose its contents to anyone else. If you have received this transmission in error, please notify us immediately and delete it from your system.