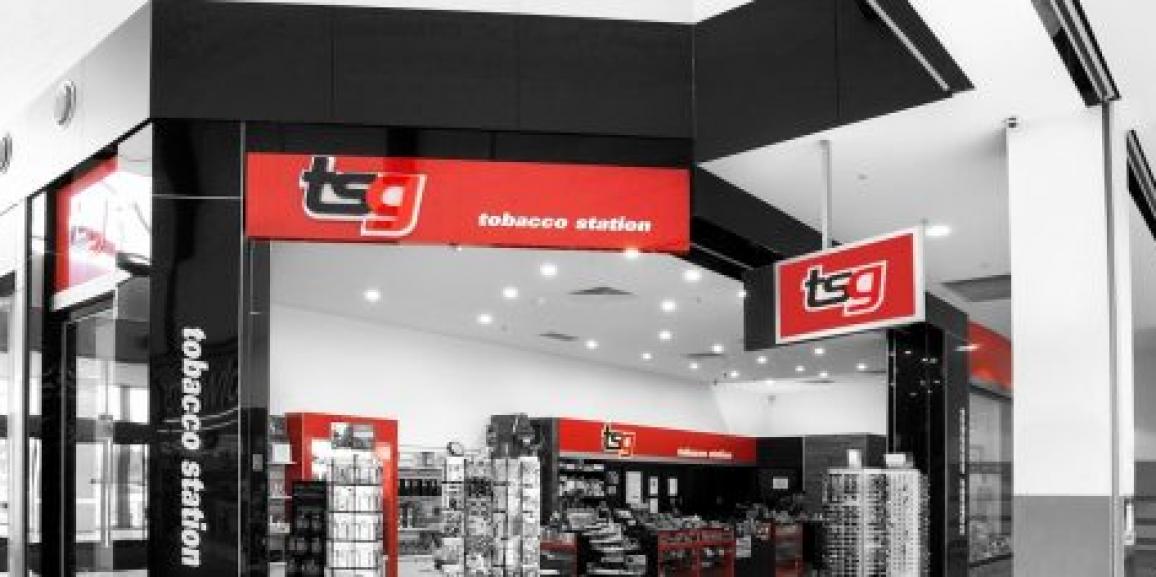 The TSG Insider
Your weekly bulletin
Friday 15 May 2020
| | |
| --- | --- |
| Welcome to another edition of the TSG Insider. | |
Contents
Business Managers in Store
Promotional Changes Alerts
Preferred Partners
Rick's Weekly Specials
Hand Sanitiser
Online shop order deadline change
Promotions
COVID-19 Information
BUSINESS MANAGERS IN STORE
TSG will be recommencing stores visits from Monday 18th May in the metropolitan areas of QLD/NSW/VIC.
The protocol will be our business managers telephone your store before visiting to establish the guidelines that you require within your premises.
If you do not wish our business managers to re-commence visits to your store simply let them know when they telephone.
Our team will be equipped with masks/gloves/hand sanitiser and will utilise where needed. Social distancing will also form part of in store visits.
PROMOTIONAL CHANGES – POS ALERT COMING SOON
Due to promotions constantly changing, lately even mid-week, it's vitally important to check the promotions page on the TSG website to keep up to date. To help with this, TSG will be rolling out another update to the POS program early next week. This will display a pop up message showing any promotional changes when you first open the TSG POS program. Please note this will also substitute individual email alerts in regard to promotional changes to reduce emails sent to you from us.
HEAD OFFICE PHONES BACK TO NORMAL
Thank you for your patience while we waited for Telstra to restore our normal phone system. All phones are back to normal.
RICK'S WEEKLY SPECIALS
Check the HOT SPECIALS catalogue for unbeatable deals!
Deals valid to 29 May subject to stock availability
Hot specials on brands including:
Raw
Ranch
Hornet
Juicy
MK Lighters
Clipper Gas
Zippo
and much more…
We have seen scan sales data provide some promising results for the Hand Sanitiser sold in TSG stores during the first full week of sales.
Sales have been spread across all states as per the following scan data represented (right). Please remember to scan the product when you sell it, as this provides us information that we base decisions upon.
We see this as a core part of the TSG business, like most businesses now. If other shops are selling it – you can too!! We have witnessed during COVID-19 that transmission via surfaces is real as per the Touchscreens at McDonalds Fawkner, VIC. Many stores are now encouraging shoppers to sanitise their hands BEFORE proceeding into the store, and touching items that they may not purchase, increasing the risk of spread. Are you doing your part to minimise the risk at your store level?
The originally sourced product of ATF Hand Sanitiser experienced a significant delay of 2+ weeks. To honour our promised delivery window, we sourced an equivalent product, Pro Defend Hand Sanitiser, and dispatched this to stores.
Hand Sanitiser Sales by State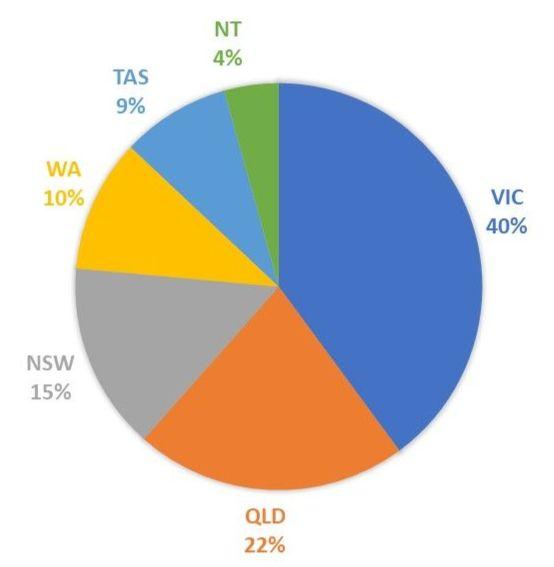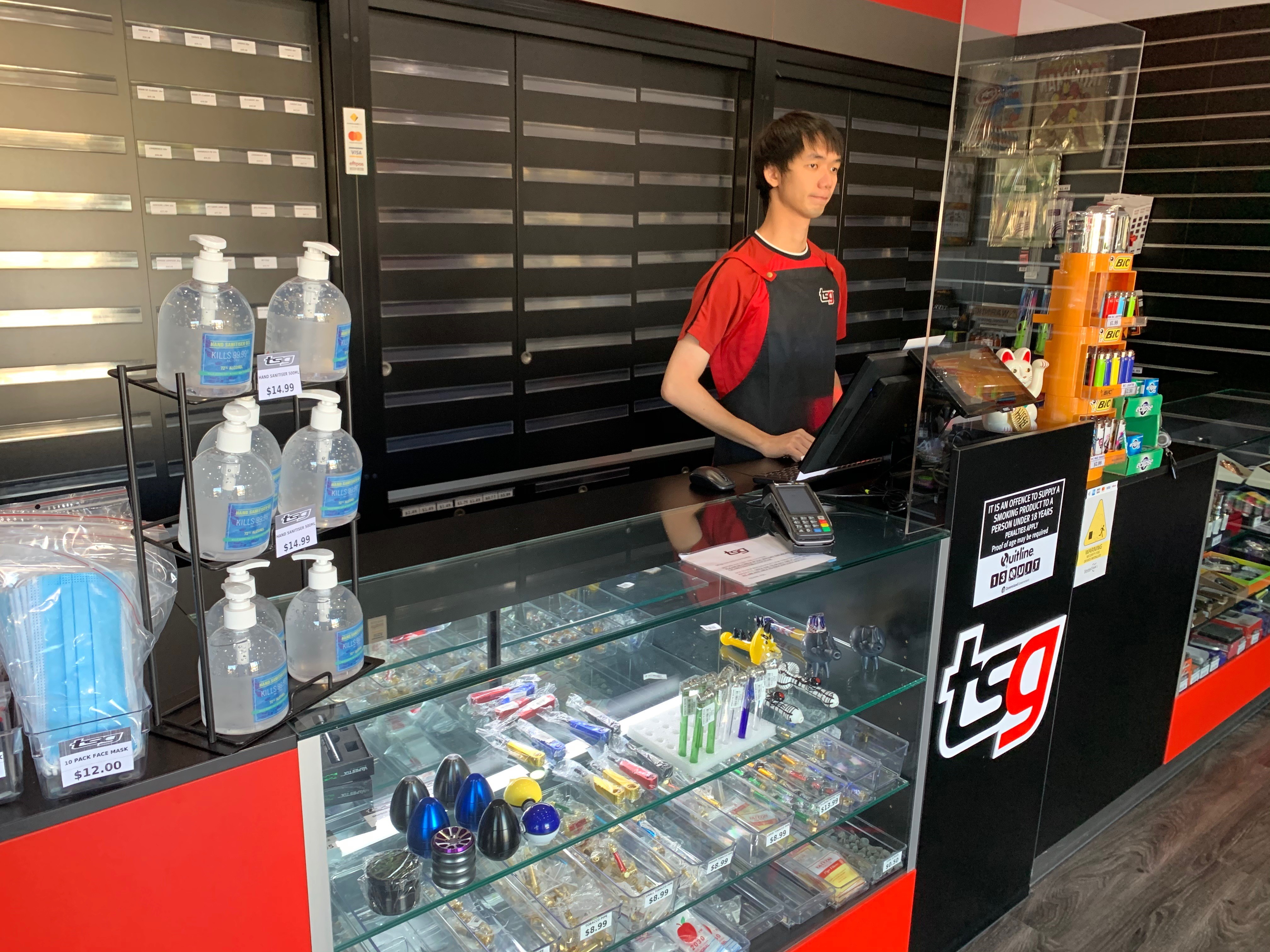 Hand Sanitiser at Manly West
We have now received ATF Hand Sanitiser today, and are pleased to substitute Pro Defend with ATF for all reorders, as originally planned, at the same HOT price – $8.60 ex gst (30x500mL per box) – Available now – NO LIMITS!
Craig from TSG Healesville says "TSG Healesville – happily supplying hand sanitiser to both customers as well as other businesses given TSG has no limits on orders!"
ONLINE STORE DISPATCH DEADLINE CHANGE
All TSG Online Shop orders will need to be received by 5pm Thursdays, for dispatch the following Monday + Tuesday. This change is effective as of next week – Your online shop orders need to be in by 5pm Thursday 21st May.
As we adjust to life with COVID-19, as the "new normal", the TSG Online Shop order cut off and dispatch will change in line with a controlled return to work from the TSG Head Office location, whilst keeping TSG staff as safe as possible.
TSG DDPAY has been increased to 45+ days credit terms during COVID-19, and is our seamless + preferred payment method for approved stores. Credit card payment is also seamless but incurs fees. Direct Deposit requires you to make an EFT payment, and forward TSG the remittance immediately, to avoid any delays.
TSG will then pick, pack, and dispatch your orders Monday 25th + Tuesday 26th with priority placed on rural stores for Monday dispatch, based on delivery times.
Please familiarise yourself with our new delivery window. Order by 5pm Thursdays, and NOT just after as this will cause a 1 week delay for you.
As they say, success is in the planning, so PLAN your orders to avoid disappointment.
PROTECT YOUR STOCK AND BUSINESS
A SECURITY PRODUCT DESIGNED TO "FORCE INTRUDERS OUT" AND PROTECT YOUR STOCK AND BUSINESS
More and more thieves are becoming more brazen and carry out break and enters without the fear of being caught.
The results with the Intenso Sound Barrier are amazing – it is so loud and unbearable it literally "Forces the Intruder out of your store".
Intenso Sound Barriers emit an intolerable Sound Spectrum at 125 decibels. This "Sound Spectrum" is totally unbearable and forces the intruders to retreat from the protected area.
The Sound Barrier integrates straight into an existing alarm system.
Sound Pressure on your Inner Ear and Decibels!
A normal internal piezo siren is rated at 109dB's. If we had a siren at 112dB's, the sound pressure on your inner ear would double. And at 115dB's, it would double again. At 125dB's, the Sound Barrier it is literally unbearable!
Not only is it the loudest Sound Barrier on the market, but is has 8 x Sounders, which are paired off, and each pairing has its own patented undulating frequency, which gives it its own unique "Patented Intolerable Sound Spectrum!"
Testimonial from an Owner of an IGA Store in Brisbane
"I believe the Sound Barrier was instrumental in getting the thieves out of the shop quickly with no items taken and minimal damage, due to the noise playing with the inside of their head which is quite painful, and also their knowledge that the noise would be alerting people from quite a distance away."
And as the picture (right) reveals, it is a nice clean looking unit.
RECOMMENDED RETAIL PRICE: $1,575-00 plus GST*
SPECIAL OFFER FOR TSG FRANCHISEES: $1,165-00 plus GST*
This offer for TSG customers is a huge saving of $410-00 plus GST.
*Please note that you will need to allow for the cost of your security company to install the Sound Barrier.
Contact Alan Gale by:
Phone: 0438 729 807
Or Email: [email protected]
PROMOTIONS
PML
Promotions changes for PML can be found on the website under promotions.
Summary of changes
Extended the current case deals on Bond St Classic & Choice 20s
Extended the case deal on Harmony By Choice through to the 31st May
Bond Street RYO 25g now on in QLD
Please be aware that PML will be closing the Brisbane distribution centre and are in the process of moving distribution from this DC to the Derrimut DC in Victoria.
This will be effective from later this month.
All deliveries now will have a 48hr delivery turn around with the exception of TSG Goondiwindi that will be a 72 hour delivery turn around.
Everything from Brisbane will be coming from Derrimut excluding Harvey Bay & Sunshine Coast which will come from Townsville.
Townsville serviced areas will remain as currently established, with the additional outlets being added from Sunshine Coast North.
Notification of the delivery day changes will be provided on the PML Portal as well as via their reps. Linfox drivers will also notify outlets of the changes closer to the changeover date.
BATA
The Mud Map for the first Education Module can be found under promotions.
Education module runs for the rest of May & June. Stores can access the module via myBAT and will also be available in Mandarin.
IMPERIAL
Imperial Brands Territory Managers will recommence visiting your outlets nationally from Monday. These visits will have a soft start, with Imperial going through a phased return to normal approach.
Whilst in your outlets, Territory Managers will be ensuring they abide by the social distancing guidelines the Government has put in place and will be further guided by the measures each TSG Outlet is implementing by speaking with you when visiting. These include distancing from customers and staff, being mindful of tight spaces as well as practicing good hygiene through regular washing of hands and the use of hand sanitiser. If you have any concerns regarding the visit of your Imperial Territory Manager, please speak to them directly.
Imperial Brands announced back in January the proposed closure of its Petone factory located in New Zealand.
As a result they will be transitioning production of New Zealand manufactured products over the next 6 to 8 months to other Imperial Brands factories.
The next stage of the transition will commence shortly with some brands now being manufactured in Netherlands.
To ensure adequate availability during this time they will be supplying product manufactured in New Zealand and The Netherlands at any one time.
There are visible changes to product produced in Netherlands versus New Zealand. Track & Trace coding will appear on each pouch, outer & shipper labelling.
Outer configuration will also increase from 5 to 10 pouches. This pricing can be found under price lists on the website. 5 asterisks indicates a new configuration.
RICHLAND
There has been a change to the promotion on Reef Original RYO 25g and is effective Monday 18th May 2020.
This can be found under promotions on the website.
franchising excellence
TSG Franchise Management
F19/25-39 Cook Road
MITCHAM, VIC 3132
This transmission contains information that may be confidential and that may also be privileged. Unless you are the intended recipient of the message (or authorised to receive it for the intended recipient) you may not copy, forward, or otherwise use it, or disclose its contents to anyone else. If you have received this transmission in error, please notify us immediately and delete it from your system.