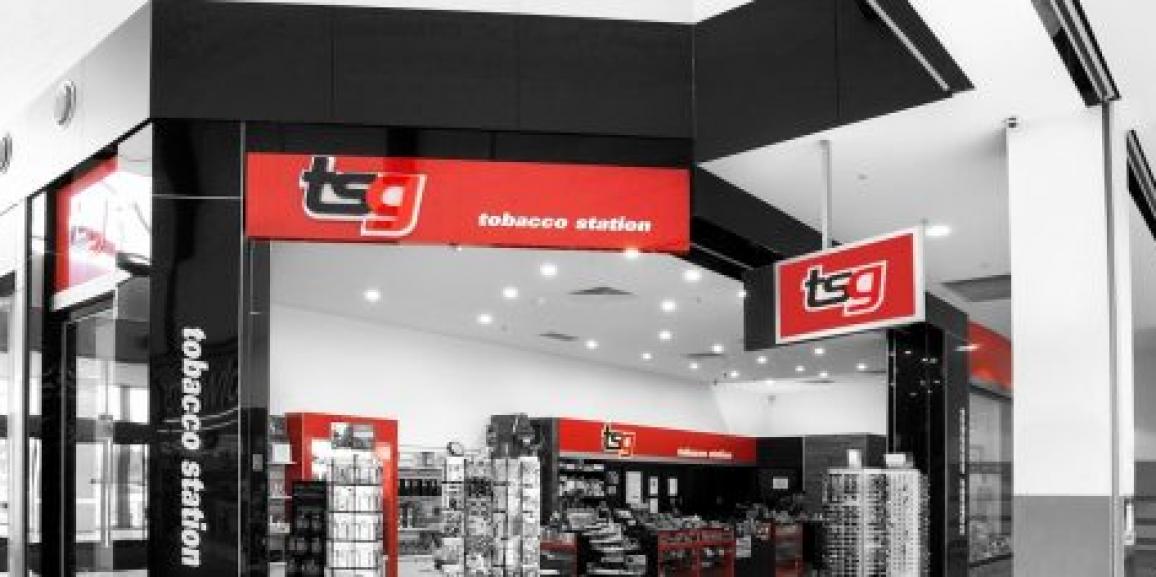 The TSG Insider
Your Weekly Update
Friday 16 October 2020
Contents
Trading Terms & Compliance
Women of TSG event
October Specials
Promotions
Covid-19 Resources

TRADING TERM UPDATE & COMPLIANCE ISSUES
We are excited to share with you that TSG has been able to add in additional RYO rebates for stores that have opted in to the 50% price board/ticketing offer.
If your PML RYO share is in Tier 1 (15%-25%) you will now be earning an additional $2 per kilo and PML is now offering a Premium Tier (>25%) that will earn you an additional $5 per kilo. More details below.
Following our update on accurate scan data on 4th and 11th of September BAT will now be issuing multiple default notices marking stores non-compliant for being outside of 10% of purchase vs scan. TSG is still arguing for some leeway in some cases where stores through no fault of their own have been affected under stage 4 restrictions in Metro Melbourne causing such variances as they have been forced to close and as a consequence not being able to sell the stock.
We argue that such default notices where stores are still sitting on stock will only contribute to more unwanted behaviors. We also deem the timing rather unfortunate given recent excise increase and buy up periods. BAT is however within their right and will exercise these as they see fit.
We recommend that everyone looks carefully what each tobacco company offer in trading terms and customer service to you. A quarterly update on the recent trading term $$$ performance can be expected shortly, and I look forward to sharing the results with you.
Simon Ritte
General Manager
WOMEN OF TSG – THURSDAY 5 NOVEMBER – 1pm AEDST
We are delighted to invite all women of TSG to our next virtual catch up!
Featuring:
Vaping Demonstration with Easy Vape – your chance to further understand vaping and sell more!
Best Hat Competition – in honour of Oaks Day
Race day sweep
And more…!
Register now by email: [email protected]
What time is this event in my time zone?
Victoria – 1pm
Queensland – 12 noon
NT – 11.30am
SA – 12.30pm
WA – 10am
OCTOBER SPECIALS
Available from 12th October to noon 29th October 2020.
Includes hot items including lighters, flasks, RAW 2 way roller and much more…
TSG ONLINE SHOP & SCANDINAVIAN TOBACCO GROUP
MORE CIGAR DISCOUNTS NOW ONLINE via the TSG Online Shop.
October brings TSG franchisees further discounts off popular tobacco brands.
Café Creme Reg, Blue, and Arome 10% off
Café Creme Arome Filter 5% off
HW Half Corona 5% off
Borkum Riff Pipe 30gm 5% off
Erinmore Pipe 50gm Pkts Only 5% off
Hand made cigars 20% off
For more information about this, please contact TSG Preferred Partners ph 1800 777 079 option 5
PROMOTIONS
PML
Are you a store that opted in for the PML 50% price board/ticketing offer?
Great news. Now there is even more opportunities to increase your PML RYO rebates.
TSG has been able to add in additional RYO rebates to the platform that will be applicable from the 1st of October 2020.
Essentially there are two additions:
The addition of a new RYO share tier called "Premium Tier" for opt-in stores. If an outlet on the opt-in term achieves the premium RYO tier for a given quarter PML will pay an additional $5 per kilo on RYO purchased directly from PML from the time they opted-in for each quarter.
An additional $2 per kilo for opt-in outlets that achieve tier 1 on RYO purchased directly from PML from the time they opted in for each quarter.
Based on the above, participating retailers will be able to earn the following total rebates for PML RYO under the new inclusions: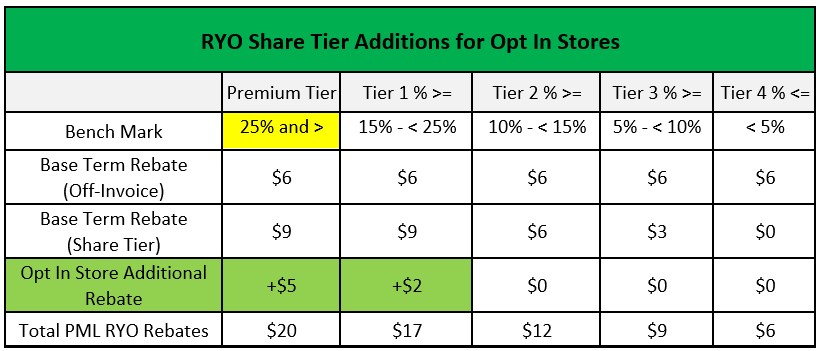 The first digital task for Q4 PML trading terms is running this week and finishes on Monday 19th October. Don't forget to complete as these go towards your trading term performance.
PML have a couple promotional adjustments from Monday 19th of October. Decreased case deals on Bond Street Classic 30, Bond Street 30 & Longbeach Fresh Burst 30. Information can be found under promotions and changes are highlighted in orange.
IMPERIAL
TSG can confirm that the non-recognised Imperial stores will now receive the same WLP as the rest of our network. Correct prices can be found under price lists.
On the last day of August Imperial had to cut back RYO orders in the afternoon. As a result, about 15 outlets were not able to order and therefore not achieve the RYO buy incentive payment. As a sign of good faith Imperial have completed a back payment for these 15 outlets as they were close to the achievement level.
BAT
Stores that have purchased the Winfield Classic 25, and Pall Mall 20/Holiday 20 Multi Buys can you please use this price instead of the full size carton price on the price boards.
New product
Winfield Classic 30s Blue & Gold – $43.98/$263.89. Products for deletion – Winfield Flow Filter Red 25s & Winfield Original Red 20s.
Will be available from 30th October. One carton allocations apply to recognised outlets.
Rothmans Classic 40s Blue & Gold – $56.44/$169.31. Products for deletion – Winfield Optimum Crush Blue & Gold 40s
Will be available from 30th October. One carton allocations apply to recognised outlets.
Tasmania only – Pall Mall 20s Red & Blue – $27.41/$274.07
Tasmania only – Pall Mall 40s Red & Blue – $52.82/$158.47
Tasmanian Products for deletion – Holiday 22s Red, Blue, Gold & Menthol
Should be available in the coming weeks. One carton allocations apply to recognised outlets.
National excluding Tasmania – the release of Holiday 20s and 40s Red, Blue & Gold will now be late October.
Products for deletion will be Holiday 22s Red, Blue, Gold & menthol. Holiday 50s Blue & Gold.
Craven 25s Blue – $33.29/$266.32 incl. GST (QLD/NT/SA/WA/TAS)
Craven 30s Blue – $40.69/$244.17 incl. GST (QLD/ACT/NSW/VIC)
Promotion on this product commences 16th October and ends 27th December. Discount in-line with promotional advice. Note this is not a Margin Enhancement Offer.
Case deal will be 100% deferred. Promotional caps will apply*. (* Promotional Caps have been calculated to reflect store's Low Price 20s Cap x 2 Pall Mall 20 & Holiday 20)
Purchased stock will be counted towards SOR reads. One carton allocations apply to recognised outlets.
More information regarding these products can be found under products.

Richland
Don't forget, Bayside 20s are exclusive to TSG. Customers cannot purchase it anywhere else.
COVID-19 – INFORMATION AND RESOURCES
For current news, we're sending TSG Insider to your inbox. Can't find it?
You can always access our most recent correspondence on our website here.
LOOK AFTER YOURSELF
There are resources for you if you, your family or your staff need support.
Lifeline (13 11 14) and
Beyond Blue (1300 22 4636 or online chat).
TSG Franchise Management
F19/25-39 Cook Road
MITCHAM, VIC 3132
This transmission contains information that may be confidential and that may also be privileged. Unless you are the intended recipient of the message (or authorised to receive it for the intended recipient) you may not copy, forward, or otherwise use it, or disclose its contents to anyone else. If you have received this transmission in error, please notify us immediately and delete it from your system.