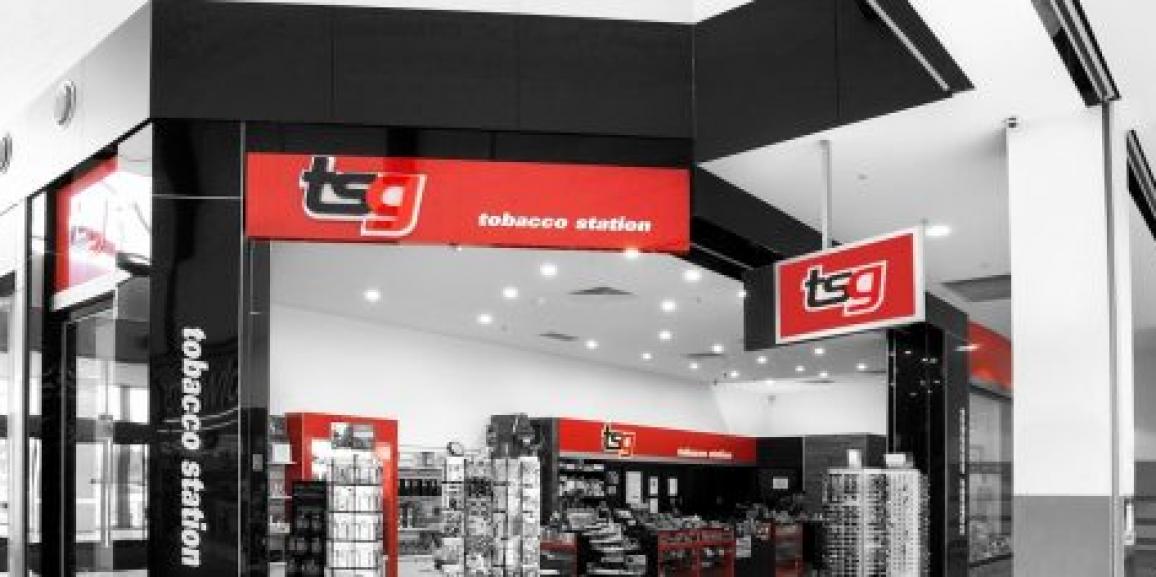 The TSG Insider
Your Weekly Update
Friday 6 August 2021
Contents
Power BI Reporting
New Team Member
Bond St + Mybat errors

Preferred Partners
Promotions
Covid-19 Resources
POWER BI – POWERFUL REPORTING FOR YOUR BUSINESS
TSG are proud to announce a terrific new feature that we have added to our Heimdall program, Power BI reporting. Power BI reports are used to transform data by creating charts and graphs to provide an insight on how your business is tracking.

When you log into Heimdall, you will automatically have access the last 7 months of sales data for your store/stores. By using the available filters, you will be able to highlight your best-selling products by category, sub-category and or supplier over a particular date range. These reports can then be downloaded to your system for further analysis when required.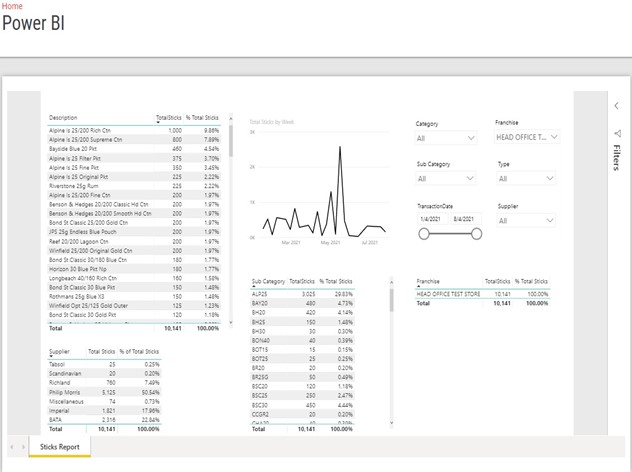 We anticipate rolling this out by Wednesday 11th August, once rolled out, you will automatically find it when you log into Heimdall.
In the meantime, please familiarise yourself with Power BI by reading the Heimdall Power BI user guide found on the TSG website here.
NEW TEAM MEMBER
TSG is proud to announce that Alex Ming has joined TSG as our Operations Executive in Victoria. Alex has come from a strong sales background where he most recently was employed as a Trade Marketing Associate with BAT. Previous to this, Alex has also worked as a store manager in an opposition tobacconist. A background both sides of the counter! Alex is also fluent in Mandarin.
Welcome aboard Alex!
BOND STREET ORDERING ISSUE AND MYBAT ERRORS

Bond Street Classic 20s ordering issue on the PML Portal:
Please note on the PML Portal: 200 stick cartons of Bond Street Classic 20s are not available at the moment.
As a result, you will need to order the twin pack carton 2 x 5 x 200 and then break these down to sell as single packs.
Mybat website access issue:
BAT has not updated the Security certificate on their website and as a result, all visitors are presented with the following connection error, see screenshot below.
Please follow these steps to bypass this error:
For Google Chrome Users: Click on 'Advanced Settings' underneath the error and then click on 'Proceed to orders.mybat.com.au' or
Use Firefox browser where you wont see this error and will be directed straight to the website.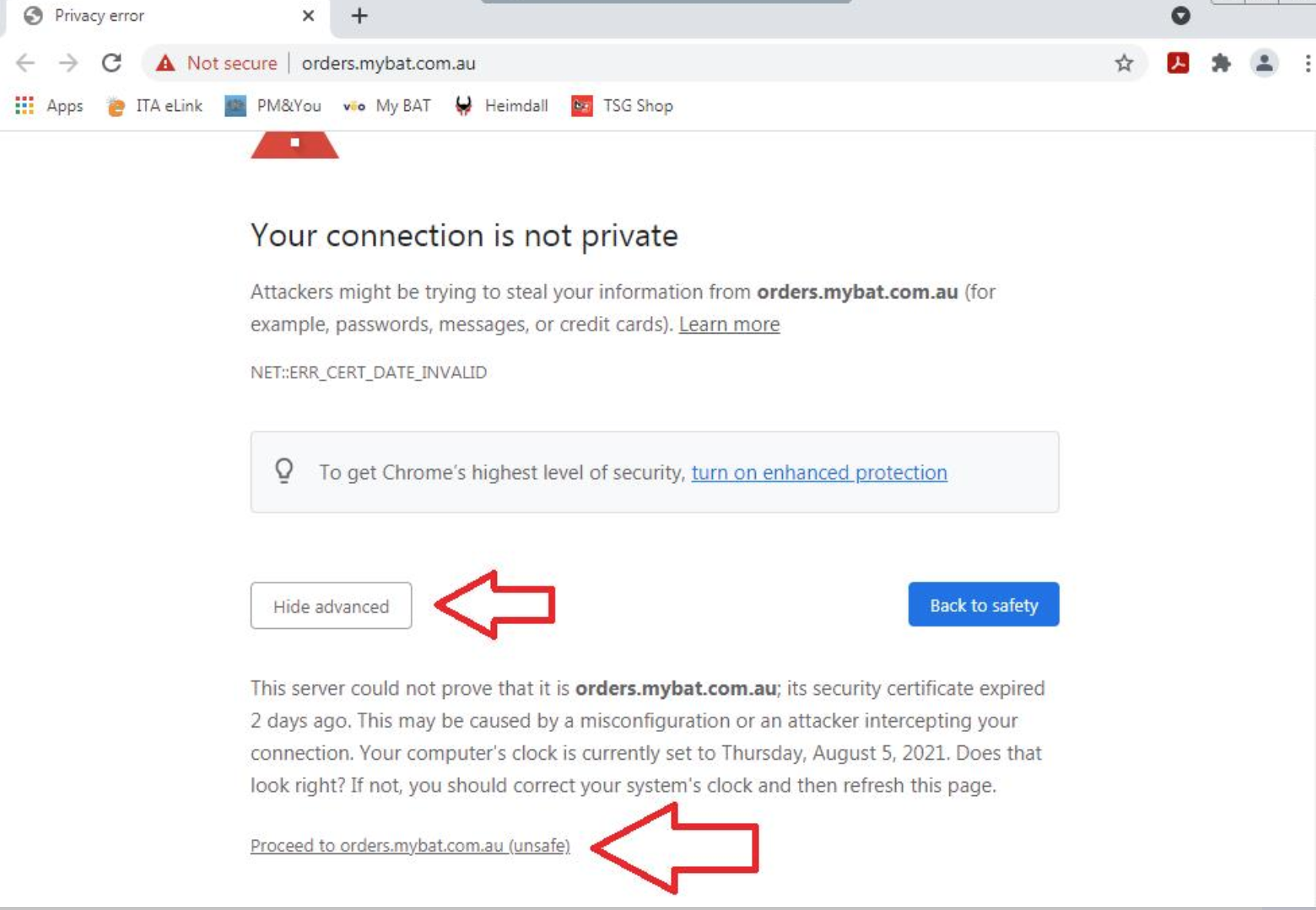 PML
As mentioned in The Insider on the 28th May Queensland stores missed out in the Mid-Year RYO Share Incentive. Now it's your turn. QLD will also have a monthly RYO incentive added to the current Queensland & Victoria Q3 2 monthly TMC & RYO Share Incentive!

QLD stores – Grow your PML RYO Share in August and/or September for a chance to claim a share of $38,000 worth of TSG online vouchers!
Share Of Market Base is your PML RYO SOM at 11/7/21.
Should you be above the state average for PML, you unlock a growth multiplier! (10% of your base share). This means all your hard work to date is recognised and applied to any further SOM growth you achieve. The program runs for the full calendar month of August and resets for September. Your base for September will be the greater of your August SOM result or your August Base (SOM to 11/7/21).
There are two prize buckets, one for Hybrid outlets and one for the remainder of outlets. Scan vs. purchase criteria apply.
*TSG reserves the right to verify any scan data and scanning practices*
Example of Multiplier:
BAT
We can confirm that due to the lack of a 12.5% excise increase this year, BAT have made the decision to not implement buy plans. BAT will continue to monitor store by store purchase information and if deemed to be above regular activity BAT may enact stock management plans on those stores.
Richland
To assist with mutual cashflow management, Richland Brands will be transitioning all customers to Direct Debit. This is an industry standard approach and should be nothing new to our retailers.
To support retailers with the transition, those who setup Direct Debit during the month of August will have their current credit terms extended by 3 days* Example: 7 days credit extended to 10 days credit.
(*Credit term extension only available for customers who setup Direct Debit in August.) Direct Debit Form can be found under "procedures" or speak to your Richland rep.
The 3 Ps
Reminder to Victorian stores of the BAT changes that occurred today in Victoria – Winfield Classic 25s & 30s.
Updated price per stick and price board on the website.
COVID-19 RESOURCES
With restrictions in a state of flux in many areas of Australia, we encourage you to keep abreast of current details for your state directly through your relevant state government website. Links provided below.
MANDATORY QR CODES
QR Codes are now mandatory for retail stores in all states.
Please ensure you have set up your QR code and have it on display in your store. More information via links ->
LOOK AFTER YOURSELF
There are resources for you if you, your family or your staff need support.
Lifeline (13 11 14) and
Beyond Blue (1300 22 4636 or online chat).

REPORT ILLICIT SALES
If you are aware of illicit tobacco being sold you can report this via email [email protected] or ATO tip off number 1800 060 062.
Online reporting to Border Force via this link.
TSG Franchise Management
F19/25-39 Cook Road
MITCHAM, VIC 3132
This transmission contains information that may be confidential and that may also be privileged. Unless you are the intended recipient of the message (or authorised to receive it for the intended recipient) you may not copy, forward, or otherwise use it, or disclose its contents to anyone else. If you have received this transmission in error, please notify us immediately and delete it from your system.